The Riders would celebrate their three Grey Cup champions during a home game on August 19.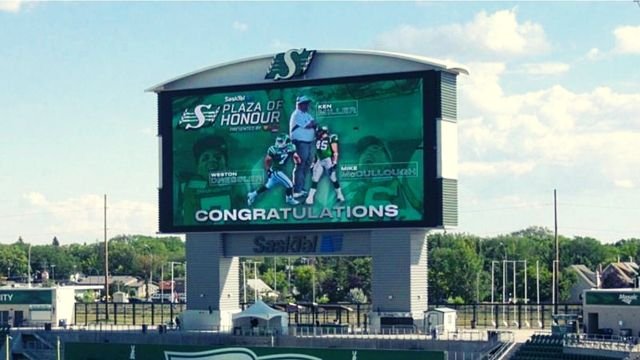 Weston Dressler, Mike McCullough, and Ken Miller were inducted into the Hall of Fame during the August 19 home game.
We're back to chatting about the "good old days." According to Dressler, each game is intriguing because of the people who watch it "The next day is set aside for the repetition. Even if we don't catch anything or score any touchdowns this time, it will be fun to give it another shot.
Dressler appeared in 123 Riders games between 2008 and 2015.
He is third on the Riders in receptions, yards, and touchdowns, all with 50.
Dressler contributed to the Riders' 2013 Grey Cup victory.
McCullough played linebacker for ten seasons. (2003-2013). A winning streak of 110 games in a row. McCullough has the 24th-most tackles in Riders history, with 187. He owns two of the team's four Grey Cups, accounting for half of the total.
"The conclusion of 2013 was memorable. Nothing could possibly be better. McCullough believes the squad will do well at home this season. If I were a coach, I would advise my players that they should enjoy every second of every game since they never know when it will be their last.
From 2007 through 2011, Miller worked for the NFL as a vice president, head coach, and offensive coordinator. The Riders hired him as head coach in 2008. The club won three playoff games and 36 games during the regular season. In 2007, Miller won the Grey Cup.
"The fact that this product and location have a large number of devoted followers may be its most compelling selling feature. In the Canadian Football League, the Riders have a distinct fan base. Nobody else will ever know who they are, according to Miller.
Miller was the team's coach this week.
"He talked about gratitude and being appreciative to the people who have supported you," stated head coach Craig Dickinson. He assisted me in being a better coach and person.
"As they listened intently, the guys said little more than a whisper. In 2000, Dickinson had the opportunity to observe Miller perform in front of a group of men in his natural habitat. What he saw impressed him.
"This is the best game ever," Cody Fajardo once commented. It is an honor to share the stage with those who have paved the path for myself and my fellow musicians.
Every year, 135 Saskatchewan Roughrider Football Club fans are recognized on the SaskTel Plaza of Honor.
Three Saskatchewan Roughriders players from the team's finest era were recognized for their efforts on Thursday.
Ken Miller, Mike McCullough, and Weston Dressler were among the Plaza of Honor Class of 2022.
Miller worked as Kent Austin's offensive assistant with the Riders in 2007. The team won the Grey Cup that year.
Austin transferred to Ole Miss the following season, and Miller took over as head coach.
Miller took over as head coach of the Riders and guided them to a 36-27-1 record and two Grey Cup victories.
The former Riders head coach has fond memories of the Plaza of Honor.